Late-Pledge Available!
The Glory Expansion is here! This pack is a modular expansion that requires the base game, and can also be played with the Wrath expansion.
Players may add up to 3 of the new game modules. The CHAMPION cards introduce asymmetric abilities. The BONUS cards add new criteria for game-end Glory Points. And the INVOCATION cards give players the ability to store purchased cards to use at will. These additions modify the strategy without changing the core mechanics that Draconis Invasion fans love.
LEARN MORE AND JOIN US!
Pre-order Now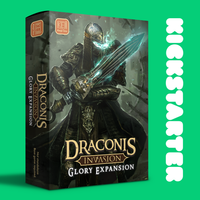 DRACONIS INVASION OVERVIEW
PRAISE FOR DRACONIS INVASION
Long story short, it's like a streamlined, more efficient version of Dominion. If you like deck-builders, you'll definitely enjoy this one.

Nayr090, United States, BGG Rating: 10
Possibly one of the best deck building games. Simple layout and format with easy to understand rules. Excellent customer support from the creator.

oss1ncrp, BGG Rating: 10
My all time fav go-to game for deck building. Nice twists, amazing artwork.

Rich6of1, BGG Rating: 10
This is my fave deck builder period! There is nothing better in this point in time. Great combos and great design.

rippelz4me, United States, BGG Rating: 10
DEFEAT THE DARK ARMY
The King has commissioned you to defeat the invading hordes of Draconis. Hunt these vile creatures while recruiting powerful defenders, garnering gold, and completing secret campaigns. However, as the battle rages on, fatigue and terror will begin to take their toll, bringing your soldiers to their knees!
THE ULTIMATE FANTASY DECK-BUILDER
Unique in gameplay and artwork, this card game combines the epic dark fantasy illustrations of Manthos Lappas (Kolossal, Cryptozoic) and the mechanics of game designer Jeff Lai (Blue Orange, Outset Media, Smirk & Dagger). The result is a stunning strategy deck-building game that has impressed gamers across the globe.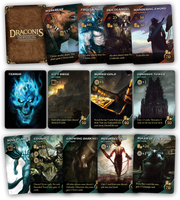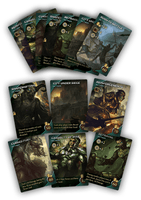 A BETTER DECK-BUILDER?
Unlike other deck-building card games, Draconis Invasion incorporates hidden Campaign cards that reward points for killing specific Invaders, Terror cards and the Terror Die that add a doomsday clock so that your armies become tired and weak as time passes, and triggered Event cards that target the game-leader with potentially disastrous effects.
Kill six Invaders or exhaust the Events cards to end the game. When the dust settles, only one hero will stand victorious as the realm's greatest champion.
CONTENTS
1 Box, 1 Rulebook, 108 Gold cards, 90 Action cards, 114 Defender cards, 26 Randomizer cards, 16 Blue Invader cards, 17 Gold Invader cards, 24 Event cards, 1 Retreat card, 36 Terror cards, 28 Campaign cards, 48 Separator cards, 6 Turn Overview cards, 1 Starting Threat Level card, 1 Terror die.
Download Rules